Milepost 39 returns
A piece of history returns to the Montour Trail as a replica of the original Montour Railroad Milepost 39 was installed by the Montour Railroad Historical Society on Saturday 11/17/12. MRHS member Tim Sposato provided the replacement post.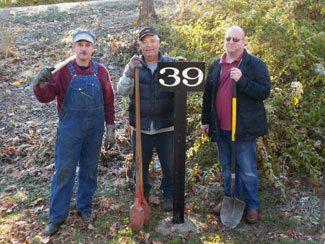 Tim Sposato, Bryan Seip and Pat Flood install the new MP39.
Milepost 39 is located near the east end of the Irishtown Road parking area on the Bethel Branch of the Montour Trail. The location was determined by comparing old photographs and by using measurements from existing Montour Railroad mileposts.



The original MP39 stands during removal of rails through Bethel Park in 1981.
The mileposts measured the Montour's railroad mileage from the switch connection with the Pittsburgh & Lake Erie RR, in Coraopolis. The original railroad mileposts were installed a century ago and differ from current Trail mileposts due to a different starting point and to several realignment projects on the railroad which shortened the actual mileage of the right-of-way. Most mileposts were mounted on steel pipes, while some were welded to a piece of rail.

The Trail's Bethel Branch was originally the railroad's main line, heading to a connection with the Pittsburgh & West Virginia RR at Salida and then further to the Union RR yard at Mifflin Junction. The Trail's main path follows the railroad's Library Branch from Library Junction, through Library and toward the railroad's end at Snowden in South Park Township.

MRHS has restored several mileposts, with more on the docket for future projects. A restored MP7 can be found along Cliff Mine Road at Trail MP5.5, Railroad MP32 is at Trail MP30 in Peters Township and MP38 is west of the J. R. Taylor Memorial Bridge on the Bethel Branch.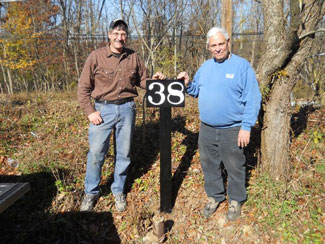 Tim Sposato and Bryan Seip at MP38.
While many of the original mileposts have been lost due to weather or construction projects, several remain in place and will receive attention in the future. Faded numbers and rusted plates can be seen at railroad MP10, MP13, MP21, MP25 and MP30. (For Trail locations, subtract 2 from each number.)

For more information about the history of the Montour Railroad, go to: montourrr.com